Retail business continues providing service with a temporary structure
Losberger De Boer enables Co-op to continue trading after blaze devastates community store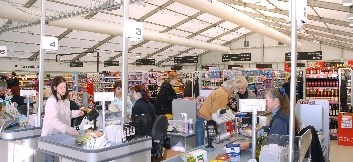 The Requirement
More than 50 fire fighters – backed by eight pumps and two aerial ladders – attended a store operated by Midlands Co-operative Society in Burley Road, Oakham, following reports of a major blaze. The incident, which began shortly after midnight, led to the entire building being affected by fire, heat or smoke and caused such serious damage to the roof that emergency services decided that demolition was the only option. Investigations suggested that the fire had been started by intruders who had entered the premises illegally in search of cash.
As a long-established retailer in Oakham, the Co-op was eager to resume operations in the town as quickly as possible. The gutted building was viewed as a "community-based" store, providing a social focal point for local people – particularly the elderly. According to leading loss adjuster John Armstrong of vrs VeriClaim, the fire presented insurance implications on two levels – relating to the loss of the building and contents and relating to loss of profits. He said: "Speed is of the essence when a loss of profit presents itself. Loss of profits will start from the very first day of the fire – so the sooner you can reopen the better for everyone. You don't want to let the customers down but speed of response will also benefit the insurers, so everybody has a common interest."
A meeting was held between the Co-op and Losberger De Boer just one day after the fire. The structure specialist was tasked with creating temporary facilities that would enable the retailer to continue serving its customers while demolition and subsequent rebuilding of the permanent facilities took place.
Interested in this Commercial space solution?
Get in touch for more information on owning or renting one of our structures.