Warehouse & Storage Solutions
Increase your storage capacity with a temporary or permanent warehouse building for industrial or commercial use. Significantly faster planning and build time than traditional options. Temporary and permanent warehouse buildings to hire or buy.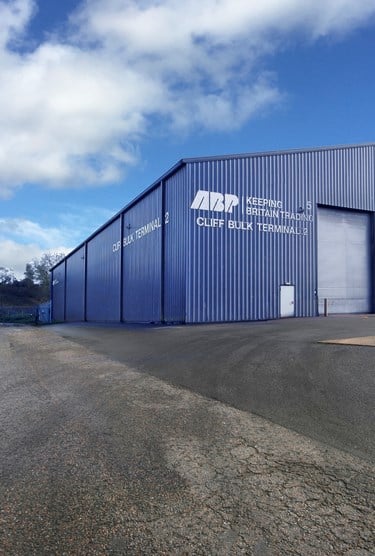 Flexible, fast & cost-efficient
Our warehouse storage solutions can be designed, built and delivered turnkey within a matter of weeks. You can keep it up for as long as you require or indefinitely with our hire or purchase options. As well as this, our structures' prefabricated, modular design offers you maximum flexibility when designing, scaling up or down and relocating if you need to, creating a sustainable instant warehouse solution.
As the UK's leading temporary building specialists, our warehouse buildings meet only the highest standards with ISO 9001, 14001 and 45001.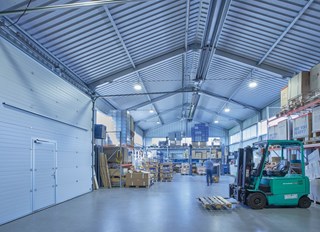 Benefits of our warehouse solutions:
Create your own custom warehouse building
Relocatable
Sale or hire options
Highly adaptable
Can easily be scaled up and down
Offer great flexibility
Adhere to the highest standards in terms of quality, safety and sustainability
Are a cost-effective alternative to traditional buildings
Can be delivered turnkey within weeks
Can be used short and long-term, even decades
Case study: Extra warehouse space delivered in 8 weeks
This client needed to expand their production site due to increasing demand for their products. We designed, built and delivered one of our Induflex structures to create an additional 240 m² of storage and goods handling space.
The structure was designed to fit in seamlessly with their site – even matching brand colours. We included light panels, steel sheets with anti-condensation coating and an aluminium framework for fast construction and delivery time. This project was delivered, turnkey in just 8 weeks.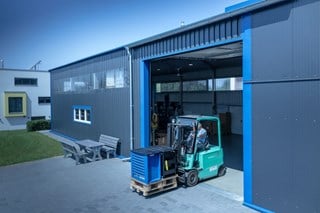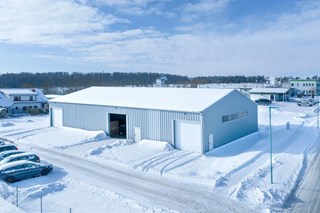 Innovative by design
Snow load: The standard version of our Induflex building carries a snow load of up to 105 kg/m2 on the roof. On request, the structure can be customized and reinforced further to bear a snow load of up to 350 kg per m2.
Wind resistance: Our standard warehouse building has excellent wind resistance and can handle wind speeds of 25m per second. With additional customisation, the structure can be strengthened further to withstand wind speeds of 30 meters per second and above.
Height levelling function: An exclusive feature of Losberger De Boer structures. Height differences of up to 30cm can be compensated, saving time and money when it comes to the groundwork.
Case Study: A lightweight storage warehouse
For this project, a 20m x 32m structure was fixed with ground anchors on the uneven ground of the car dealership. The height levelling function was essential here to compensate for the ground conditions.
"We urgently needed another storage building to meet the increased demand. Losberger De Boer's solution convinced us directly, as the industrial warehouse not only ensures flexibility but also rapid assembly. First-class consultancy and realization."
Managing Director Ulrich Karsch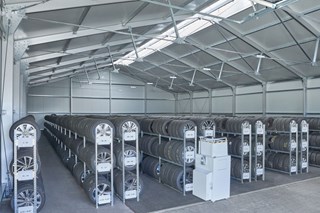 Commercial space
What can our warehouse buildings be used for?
Our storage solutions are highly adaptable, 100% demountable and relocatable, with significantly faster planning and build time than traditional construction methods.
Emergency replacement
Workshop space
Industrial space
Waste management
Loading bays
Industrial canopies
Retail & showroom space
Production space
Chilled or ambient storage
Our USPs
Partner with Losberger De Boer
With over 100+ years of experience, >500,000m2 of material available and the help of our dedicated team, we are truly committed to your success. Our structures and services are special for a variety of reasons including;
Tailor-made
We can create a bespoke design, combining multiple Losberger De Boer structures or seamlessly adding to an existing building, putting you in complete control.
Thermal Acoustic System
A one-of-a-kind system, exclusive only to Losberger De Boer structures. Achieve sound reduction of up to 50dB and a U-value of >0.4 (Standard U-value rating is 5 in traditional buildings).
Turnkey Delivery
From design to delivery, the whole process can be completed in a matter of weeks, including interior fit-out.
Highest Standards
Losberger De Boer structures reach the highest standards of temporary/semi-permanent structures with ISO 9001, 14001 & 45001.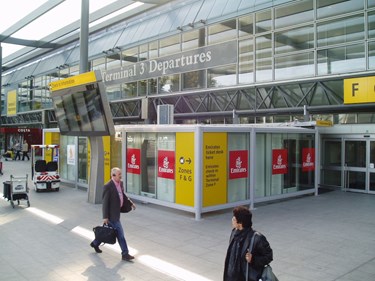 "Losberger De Boer rose to the challenge and delivered a quality facility"
Client Testimonial
London Heathrow, Terminal 3
"Building any facility in a live operational Airfield area has unique complexities beyond usual construction constraints. Losberger De Boer rose to the challenge and delivered a quality facility that has been used a number of times, not only during periods of disruption, but for other activities where a large covered space, or a non-intrusive baggage training facility, is required."
Amanda Warner, Heathrow Airport
Interested in this Commercial space solution?
Get in touch for more information on owning or renting one of our structures.