Client: Tegel Airport
Airport terminals, we create space whenever is needed!
It took our team 8 weeks from receiving the client order to design, plan and safely deliver The Berlin Tegel Airport terminal!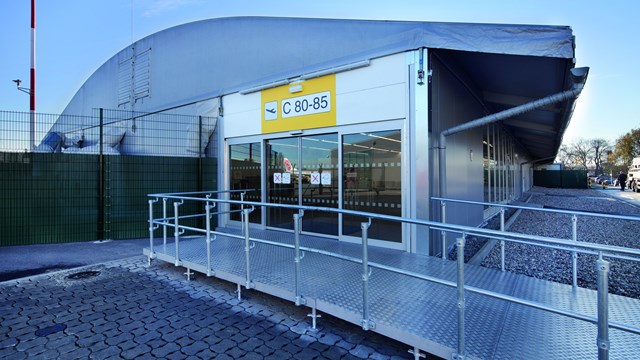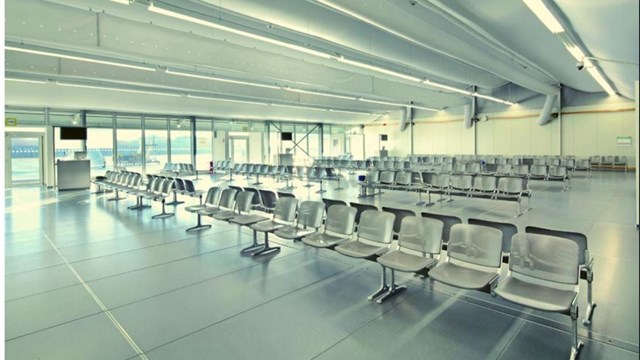 How short is short-term?
The Airport needed to expand its capacity and fast, while construction of the new Brandenburg Airport was ongoing, our job was to extend the existing Terminal C by 1200 m2, using our Maxiflex structure with a curved Arcum roof.
It was a combination of precise and efficient planning, exceptional (maybe we are biased!) project management and hard work, that meant we were able to supply the airport with 6 more gates (C80-85). In collaboration with the airports operational team and its engineers, we provided them with the turnkey temporary space solution which included a reinforced floor to hold the weight of baggage belt machines, robust wall panels, lighting, heating, ventilation and air conditioning. Further modifications were made in the years that followed, it now includes waiting zones, duty-free areas and lounges.
Due to the delay in the completion of the Brandenburg airport works, which took 9 years longer than scheduled to construct, the temporary Losberger De Boer terminal was used heavily and for much longer than originally anticipated.
It is not the first time that one of our "temporary" space solutions has worked effectively and turned into a more permanent building, this is testament to the effort that goes into these types of projects, and our stringent build practices! Now that the last flight has left Berlin Tegel Airport, we remember it as one of our favorite projects!
Lisbon, Portugal
Lisbon Airport was already at maximum capacity, when the European Football Championship came to the country in 2004. This fully operational terminal was originally designed to be operated for 10 years, but is still in use today.
Doha, Qatar
Built for the Asian Games in 2006, this terminal handled all passengers that arrived in Doha to witness this massive sporting event. Losberger De Boer also provided the airport with temporary secure baggage handling and a storage facility, to allow for further growth, as Qatar's largest airport continued to expand rapidly. The structures remained in use until the opening of the new Doha Hamad International Airport in 2014.
Cardiff, Wales
When Cardiff hosted the 2017 UEFA Champions League final, Losberger De Boer provided Cardiff Airport with an additional, 2000 m2 temporary terminal within five days and without any disturbance to the normal day-to-day running of the Airport. To ensure the temporary terminal met the strict airport security standards required for such a large scale football event, the security check area was reinforced to accommodate the highly sensitive Airport scanning machines. "The terminal structure and project management delivered by Losberger De Boer was professional, timely and played an important part in our ability to process a large amount of additional fans within a short timescale, whilst also operating business as usual for our customers travelling for leisure or business. I look forward to future opportunities to work with Losberger De Boer on future projects."
Robert Hammacott – Head of Airport Facilities at Cardiff Airport
Interested in this Commercial space solution?
Get in touch for more information on owning or renting one of our structures.