A bespoke venue for Van Gogh Alive
Van Gogh Alive is a an exhibition like no other and a far cry from art in its traditional form. It promises to transport it's visitors into the spectacular and legendary work and memoirs of Vincent Van Gogh, through a multi-sensory experience.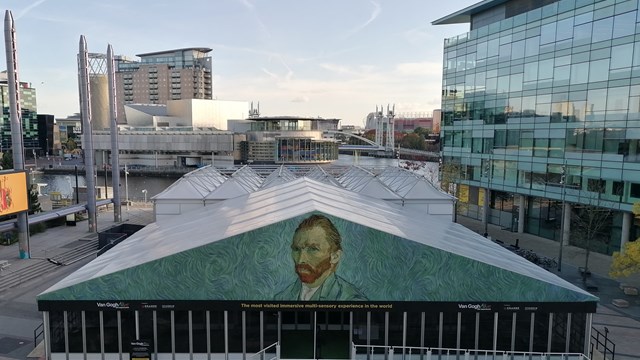 Client: Active Sport
An immersive experience about Van Gogh
Losberger De Boer delivered a sound and light proof venue that has been used to display the digital exhibition, which shows a staggering 3000 pieces of his work through light projections that fill every corner of the space. LDB have provided the template for the exhibition in each city of the UK tour, which started in London, then moved to Manchester for the second leg, before travelling up to Edinburgh in February. This has fast become the world's most visited, immersive exhibition!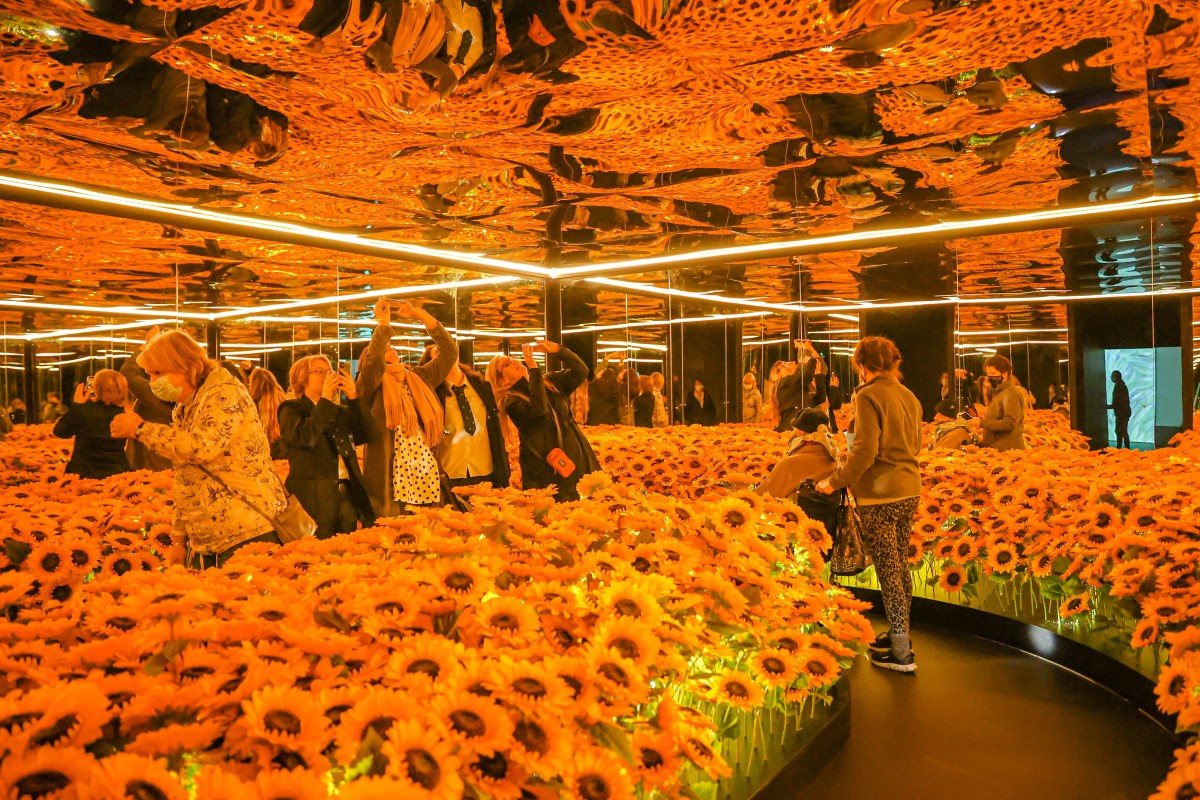 Let's get technical
How did we do it?
Weather-resistant, soundproof and relocatable exhibition space
The exhibition made use of projections that filled the entire space, along with music, as another sensory sphere to the experience. This meant that getting the lighting and acoustics absolutely perfect was key in creating a fully immersive experience in a temporary venue. The location of each venue has been in the heart of every city it's visited, a central location was crucial in getting visitors through the door. However, for our client, this meant the noise of general city hustle and bustle had to be diminished, to ensure the immersive visitor experience of the exhibition wasn't going to be interrupted or affected. The main exhibition space showing the artwork had to be soundproof, with no natural light creeping in. However, the entrance bar and restaurant had to be light, airy and welcoming, making the most of the fantastic central location, this meant we used transparent roof sheets and glass where possible.
Perfect acoustics
To get the acoustics just right, we equipped the venue with our Acoustic Barrier Mat System, which ensures the perfect balance between sound reflection and absorption. With sound being an important element in this fully immersive, multi-sensory experience, we also used our Rain Guard System, which completely blocks out the intrusive sound of heavy rain on the roof of the structure.
We customized a Delta Vista pavilion to serve as the main exhibition space and used a clear span Alu Hall to create a striking but welcoming entrance. After the London exhibition ended, we built a similarly designed venue at Media City in Salford near Manchester, Edinburgh will follow the same plan of action.
The Challenge
We always visit every site beforehand, so we knew we had to make some modifications to the venue to better suit each location. We also knew we were going to be working in bust central city locations, and adapted our construction plans to cause the least amount of disruption possible to the surrounding area, whilst remaining on schedule.
A word from our client - 'A magnificent venue'
"We have just enjoyed a memorable four months on the lawns of Kensington Gardens with the Van Gogh Alive immersive art exhibition, which saw a record numbers of visitors. Our challenge in Manchester was to replicate that success and visitor experience in the heart of MediaCity."
"Once again we went to Losberger De Boer to provide us with the soundproof and weather resistant Exhibition Gallery essential for this project. We are delighted to welcome thousands of guests into this magnificent venue which continues to make this wonderful exhibition possible." - John Carrigan, Project Director Van Gogh Alive
Interested in this Event space solution?
Feel free to reach out to us for more information on owning or renting one of our structures.