Quick-to-build and highly economical
Alustock
Solve your capacity issues in a quick and economical way, with our lightweight, aluminium frame-based Alustock.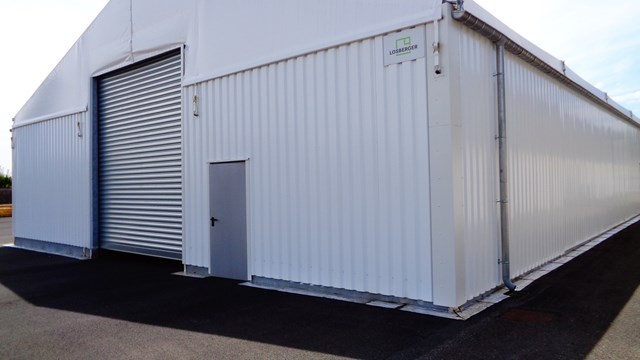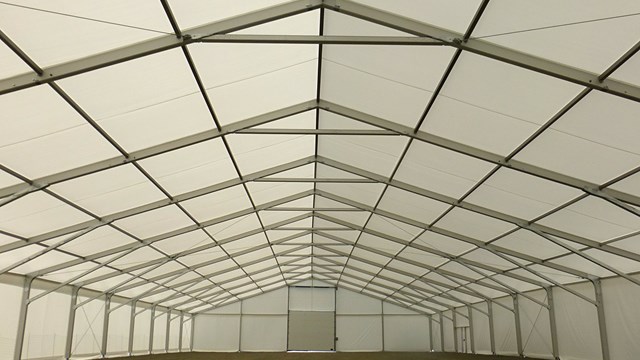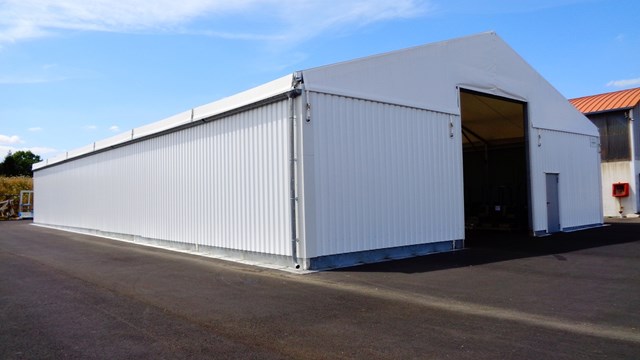 Common uses:
Storage space
Logistics
Maintenance
Soil remediation
Recycling
Hotel / Gastronomy
Exhibitions
Military applications
Civil applications
Lightweight frame
With its lightweight aluminium frame, our Alustock halls allow you to permanently solve your capacity issues within a few weeks, without the need for a large investment. The Alustock is the perfect marriage between a quality structure and an economical solution.
Built for speed
The Alustock is built for speed and can be erected in no time at all. In most cases, a foundation is not required. The robust, heavy-duty and high-quality canvas functions as a means to close the roof and gable in record time. The side cladding, which is made of trapezoidal corrugated sheet metal, adapts quickly and helps to protect the stored goods.
Scalable & relocatable
Due to its construction in a fixed longitudinal grid, the Alustock can be extended or shortened during its use. Changing locations is never a problem either. Dismantling and reinstallation can be carried out with almost no loss of substance.
Specifications & options
Below, you will find the most frequently asked specs. You can also download the full product sheet.
Tech specs
Dimensions
Size

8, 10, 12, 15, 17, 20, 25, 30, 35m

Side height

3.20m, 4.20m, 5.20m, 6.20m

Snow load (roof)

0.75 - 1.25 kN/m².

Wind load

0.50 - 0.65 kN/m².

Please note

That there may be small differences in dimensions or options when you buy a tent system as opposed to renting a space solution. If you are interested in buying a tent system, our product specialists will lay out all possible dimensions, options and configurations for you.
Options
Options
Please contact our specialists
Safety
Safety
Please contact our specialists
Proven quality
Turnkey delivery
Highly customizable
Short delivery time
Short installation time
For temporary AND permanent use
Proud to work for these companies
Interested in this Commercial space solution?
Get in touch for more information on owning or renting one of our structures.