Covid-19 response in New York City
In spring 2020, Samaritan's Purse brought emergency relief to New York City families impacted by the deadly COVID-19 outbreak. We are proud to say we were able to contribute to this noble cause, by supplying them with an Emergency Field Hospital.
Client

Central Park covid response

Emergency medical care for 335 Covid-19 patients
On April 1 2020, the international Christian relief organization opened a 68-bed Emergency Field Hospital—specially equipped as a respiratory care unit—in Central Park to provide life-saving care to patients suffering from the coronavirus.
Samaritan's Purse worked alongside Mount Sinai Health System for five weeks to care for 335 Covid-19 patients. Medical teams worked around the clock to provide hope and care to those affected by the virus, reminding New York City that they were not fighting this battle alone.
Samaritan's Purse is a well-known evangelical Christian humanitarian aid organization that provides aid to people in physical need as a key part of its Christian missionary work. Their contribution during the 2020 Covid crisis was widely publicised and critically acclaimed when they flew their privately-owned jet to help the Italian Civil Protection in their fight against the virus, in Cremona, and later installed a mobile Field Hospital on Central Park, New York, when Covid-19 hit the United states.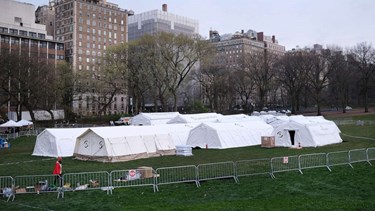 Instant relief through TAG inflatable tents
We have been supporting Samaritan's Purse in their various missions around the world for many years now.
We regularly provide them with rapid deployment TAG Wide and the larger TMM inflatable tents, which are particularly well suited for emergency accommodation and hospitals since they can be inflated in just minutes and thus offer instant relief and extended sheltering space for populations in distress.
Interested in this Rapid Deployment solution?
Feel free to reach out to us for more information.