Supporting motorway services station after a blaze
A rapid response has been given to a blaze at one of the UK's busiest motorway services stations helping to restore business as usual for motorists, secured the jobs of workers and provided financial benefits for the insurance sector.

Client: Moto Hospitality Ltd
Rapid response to emergency situations
An electrical fault within an air-conditioning unit at Cherwell Valley Services on the M40 in Oxfordshire sparked a fire within the property's main shopping and dining plaza. Despite the efforts of around 120 firefighters, the blaze went on to destroy the entire building, leaving owners, staff and visitors with the prospect of no permanent facilities on site until next year. Losberger De Boer have implemented a temporary solution in orde to be able to give continuity to the business. If you want to know more about this Solution, click on here!
The service station's owner – Moto Hospitality Ltd – had a wellestablished business continuity plan in place for its entire national operations. These identified the need to get an emergency facility in place as quickly as possible following fire, flood or other natural disaster and for longer-term, "temporary" premises to be created while a permanent replacement building could be built. Recalling the aftermath of the fire at Cherwell Valley, Moto Area General Manager Justin Shell explained: "Creating replacement premises was hugely important. In phase one, speed was of the essence to have some kind of facility available, even though it would be fairly limited. For phase two it was equally very important, but in terms of our brand and customer loyalty. As well as supporting Moto's own staff, the service station on the M40 provided employment for a range of other businesses active in the original building. These included national and international retailers including Marks & Spencer, Costa Coffee, WH Smith and Burger King.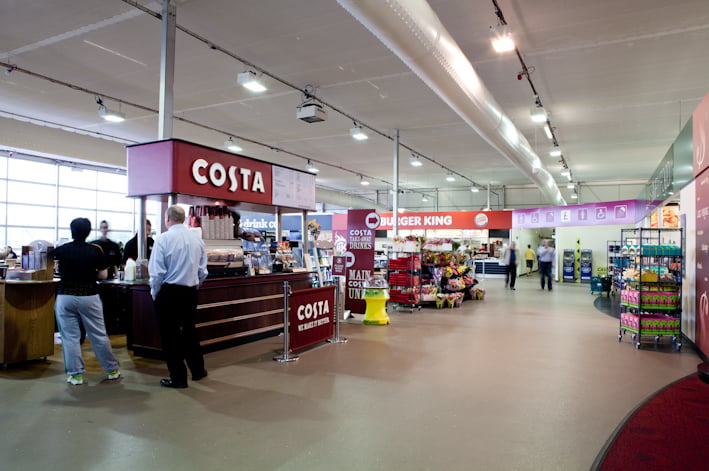 Our Approach
Losberger De Boer was contacted within hours of the blaze by Moto to provide emergency catering facilities following the incident. However, as Justin Shell of Moto explained: "PKL did introduce us to Losberger De Boer but even one of the fire officers tackling the incident mentioned Losberger De Boer to us as well." Losberger De Boer and PKL Groupworking, a specialist portable kitchens supplier, worked closely throughout the emergency operation, attended their first meeting with Moto just one day after the fire. Work got under way within 24 hours of those discussions and taking just five further days, an structure of 8m by 25m was built, providing 200m2 of turnkey solution (accommodation, power and internal fit-out). Also, a kitchen facility was connected to the back of the temporary restaurant. The facility (created on the western end of the on-site car park) allowed two retailers to recommence operations with seating for 100 people.
An adjoining covered area was added soon after to provide "overflow" seating for an additional 60 people. Losberger De Boer immediately began work on a more permanent solution with the Delta Vista structures, which provided Moto with more than 2,000m2 of floorspace on the south-east corner of the car park. This structure, 40 metres by 55m, had to be built on a scaffolding base because of the sloping terrain. It was fitted with a number of innovative features including specially insulated roof and automated entrance doors. Losberger De Boer also handled add-on services such as power, lighting and specialist temperature control and ventilation. Once fully operational, the striking glass-sided structure offered a rest area for visitors. As with the earlier emergency facility, a separate kitchen area was added to the rear of the Delta Vista.
Mical de Boer, UK MD, said: "Following the initial blaze Moto required an emergency facility that was delivered quickly and functional in its design. We ensured that a temporary building was in place within a week and then set about creating a longer-term option. The use of the Delta Vista offered a light, airy and comfortable space for visitors while offering great benefits to the client and insurance industry such as reduced running and claims costs."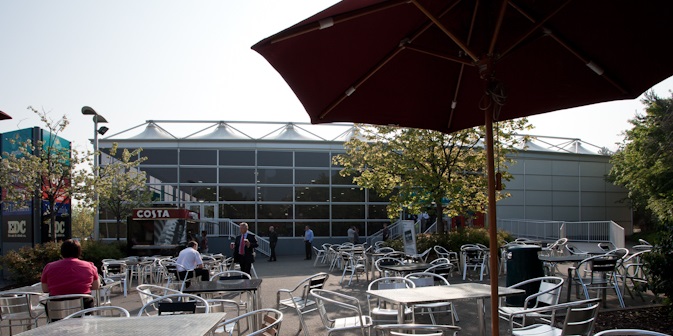 The Benefits
The two-stage response to the fire at Cherwell Valley Services was applauded for offering broad benefits to motorists, workers and insurers.
Justin Shell of Moto said: "We've been very impressed. On phase one, the speed of Losberger De Boer reaction was tremendous. The replacement was being created just two days after the fire. On phase two I felt their professionalism and knowledge – in advising on how things should operate and the things that needed to happen – were second to none." The implications for insurers and risk managers were also important, according to Mr Shell. "The insurers have welcomed Losberger De Boer's involvement. As with any loss adjustor, we were asked to get comparative quotes and the figures compared very favourably," he said. And the successfull work at Cherwell Valley has even offered the prospect of further work with Moto in the future. Mr Shell explained: "We know we can rely on them as a business. Following on from the fire, we are looking at how we can routinely alter and re-develop our service stations and there is clearly a part that they could play."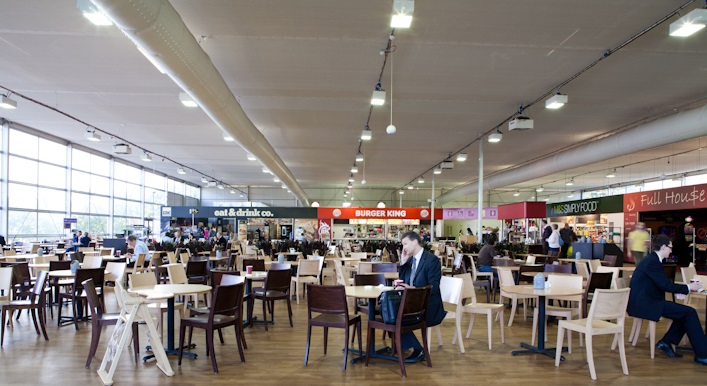 Interested in this Commercial space solution?
Get in touch for more information on owning or renting one of our structures.