The 2022 Commonwealth Games
The challenge: to build a megastore for the Commonwealth Games 2022, that doubles as a fully functional TV Studio, in the heart of the city, on top of a fountain.

The 2022 Commonwealth Games were held in the metropolitan area of Birmingham. It's official merchandising was sold in a dedicated megastore on Centenary Square. The store was housed in a fully branded, double deck building that was built next to (and on top of) a fountain, creating a truly spectacular sight.


Spreading the weight
This was no easy feat, as we had to protect the granite slabs on the ground and spread the enormous weight of the structure, as well as the massive crane we used to build it. We did this using specialist wooden spreader plates, which we positioned around and over the fountain. We used 70 tonnes of bespoke concrete ballast to secure the pavilion on its place, without penetrating the ground.


Acoustically optimized TV Studio
A section of the Megastore on the top floor was reserved for the BBC to conduct its interviews and commentary. In order to meet the highest TV standards, and to guarantee the best possible quality, we installed our acoustic barrier mats and unique rain guard system. Combined, these two systems completely eradicate all outside noise, and provide the perfect acoustic balance for TV recordings. To make sure that guests and reporters inside the studio could watch the Marathon race outside, we installed 30 metres of seamless glass panels on the top floor.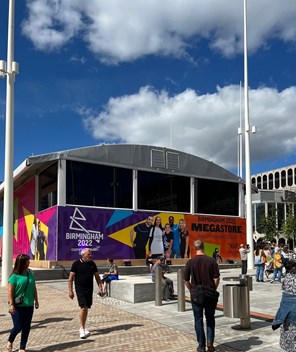 Interested in this Event space solution?
Feel free to reach out to us for more information on owning or renting one of our structures.