A miracle on ice: top class ice rinks built in weeks
A high quality ice rink or ice hockey stadium in the middle of a square, or in the heart of a city, fully functional within weeks… Sounds unbelievable? Think again.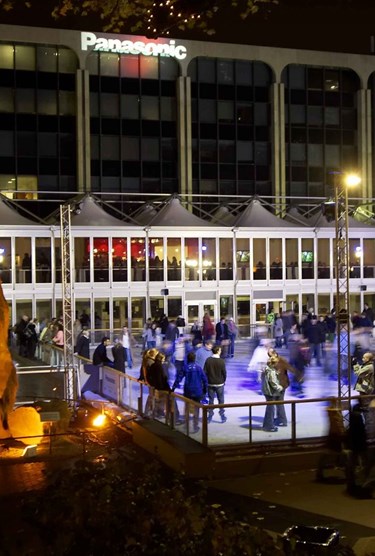 A permanent ice rink at low costs
Building a sporting venue with a permanent ice rink, will cost tens of millions of euros. For only a fraction of that sum, we can provide you with a top-of-class ice rink or ice hall that can be used for decades.
Moreover, the facility can be tailor-made to match the available footprint. We can also place additional facilities, such as a pavilion or restaurant, festive tents to help set the mood as well as practical structures like a ticket box and toilets, offering you a one-stop shop experience.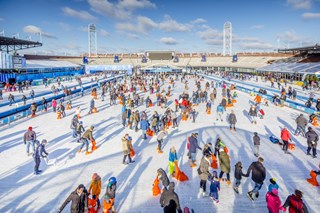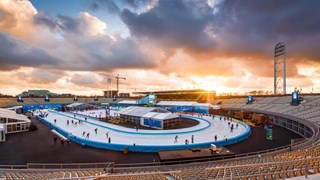 A full ice hockey stadium in a matter of weeks
Thanks to our unique modular systems and our partnership with one of the world's premier ice floor suppliers, a fully functional ice rink or ice hockey stadium can be built in just a few days.
The entire process, from your first inquiry to the turnkey delivery and on-site handover of your new ice rink, can be completed in a few weeks.
Both the construction and the ice floor are relocatable
All our buildings, our ice rinks included, are easily adjustable in terms of shape, size, height, and design. This means that additions like a second skating or training rink, or an extra curling lane, can be done rapidly.
The construction can be scaled up and down and the entire structure is relocatable. Simply put: we can make it fit almost anywhere.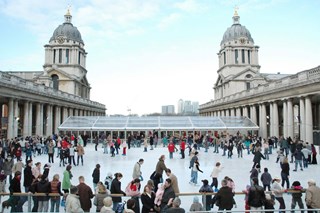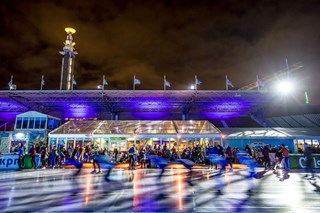 Professional guidance and turnkey delivery
When it comes to quality, we don't compromise. We have decades worth of experience in building top class ice rink and ice hockey halls. From the moment you contact us, we will offer our advice and professional guidance to make sure that we provide you with the best possible facility.
We will take care of the entire process of designing, constructing and furnishing the accommodation ourselves. After a short construction period, we will hand over an ice rink or hall that is ready to use and meets your every need.
Building a winter wonderland in weeks
In winter, when many typical outdoor sports are at a standstill, Losberger De Boer can help cities and municipalities keep people active and enjoying outdoor activities, by building temporary ice rinks.
While for ice skating-enthusiasts, ice hockey-players and curlers an ice rink will mean that they can now practise their sports anywhere and anytime, for other people having a facility like this means that they can enjoy learning how to skate and play ice hockey in attractive and inviting surroundings. We can build a festive looking winter wonderland within a matter of weeks - now that's a miracle on ice!
Our ice rinks are favoured by major cities
The best ice rinks in the UK? The one at Somerset House in London and the Royal Pavilion in Brighton, according to a large UK newspaper. Both are Losberger De Boer structures and both are excellent examples of how functionality and a festive setting can be combined to create a wonderfully scenic winter setting. In Amsterdam, we have built 'De Coolste Baan van Nederland', the most prominent ice rink in the country, for several years in succession.
Our services
Undivided attention to quality and security
An experienced Account Manager
Our Account Managers are specialists who focus on your needs, and on providing you with professional guidance and the best customer experience.
An experienced Site Manager
Our Site Managers have all the experience needed to deliver safe, efficient and well organized project, without worries, on time and on budget.
The highest quality structures available
We design, engineer, produce and build all our structures, to ensure that our buildings live up to the high standards we have set for ourselves, and that our clients have come to expect.
The assurance that the event will go ahead
Our structures can withstand extreme weather conditions and our team are used to highly complex operations in terms of logistics and planning. We always deliver.
Some Numbers & Statistics
Losberger De Boer was founded in
0
Number of subsidiaries around the globe
0
Number of professional workers worldwide
0
Average customer satisfaction rate over 2021
9,2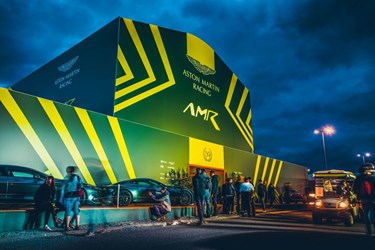 "Creating unique moments"

Lewis Ledouit Communication Manager iEvent
Testimonial | Event Space Rental
'We rely on Losberger De Boer's know-how'
We are proud to say that we have worked with iEvent on numerous occasions, on fantastic events such as the 24hLe Mans.
"We create unique moments during major events. To do this, we need to work with trusted partners, that are able to bring our creative ideas to life. That's why we work with Losberger De Boer, to be able to rely on their know-how and to face our challenges together."
Interested in this Event space solution?
Feel free to reach out to us for more information on owning or renting one of our structures.