A temporary facility after a burnt-out factory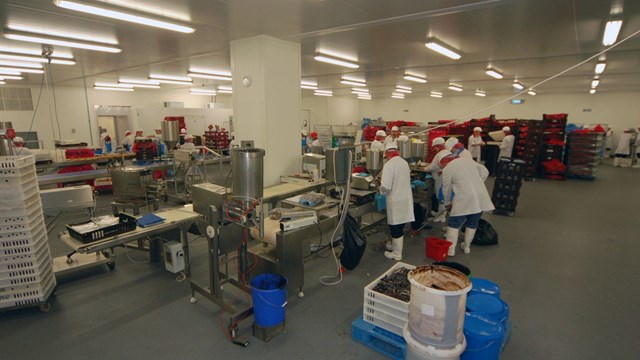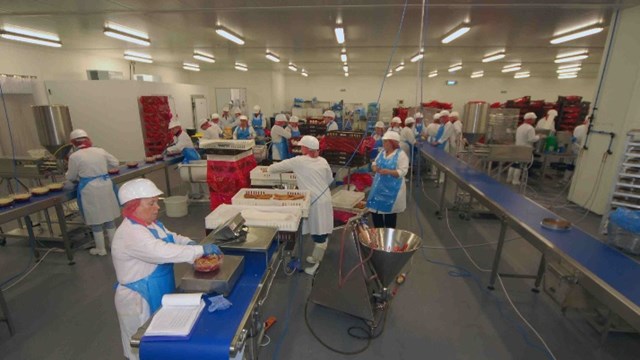 Production space for a Food Plant
At approximately 01:30 on the morning Strathclyde Fire and Rescue's Command and Control Centre received the first of several calls stating that there was a major fire at Aulds' Food Plant. Fire crews were on the scene within minutes but faced a fastdeveloping fire that had engulfed the main food processing area. Within hours Aulds' Managing Director Alan Marr and his Board of Directors held a crisis meeting to decide a plan of action.
The Plan
With as many as 70 workers on site each day, Losberger De Boer created the temporary facilities on grassland at the back of the burnt-out factory. Using a Delta Structure, this design had originally been developed for the RHS famous Chelsea Flower Show, it provided a workplace that would accommodate Aulds' staff.
While a permanent replacement for the destroyed factory could be built over an 18-month period, Losberger De Boer provided a clean production area, goods-in and goods-out facilities, changing rooms, space for blast freezers, a grill room and toilets. The total floor space covered 2.250 square metres, with special cladding needing to be created because of the specific hygiene and temperature requirements associated with food production. Working on behalf of RM Consulting — Aulds' building surveyors and structural engineers —Losberger De Boer sourced and coordinated around a dozen sub contractors which tackled work such as flooring, cladding, ventilation and water supply...
Our response
Losberger De Boer was officially appointed by Aulds and just five weeks later the company handed over the completed structure. Within 72 hours of the handover Aulds' staff were working on the production process.
According to Jackie Gregson-Brown's Senior Account Manager, "Losberger De Boer needed to respond quickly and hit the ground running despite horrendous weather conditions of 100km-per-hour winds and heavy rain."
According to Mical De Boer: "The work we have carried out for Aulds has really set a new standard within the industry because the design and build specifications have been so high and the work carried out within such a tight timeframe.
"The quick build system that we used is the blueprint for the future. It took us less than five weeks from moving on to the site to create a working replacement for the old factory, complete with laboratory and clean room. Because of the hygiene and temperature requirements we have had to work to very exacting standards."
"During the five weeks of the design and build, De Boer also sourced specialist skills, vital to our operation, which were essential to the success of the project — and everything was delivered at exceptional speed and with exceptional efficiency." According to Aulds' Managing Director Alan Marr, "We are amazed that anybody can build a building in this space of time. When they said initially that they could do it we had huge disbelief that it could be done. It was quite unbelievable that in just five weeks somebody could design and build a replacement to a building that had taken 20 months to create."

Interested in this Commercial space solution?
Get in touch for more information on owning or renting one of our structures.