COLPRO & Decontamination tents
Our innovative COLPRO & Decontamination tents offer protective shelter against all known chemical and biological agents. Because they are easy to transport and quick to install, our isolation and quarantine tents are the perfect solution for congested hospitals in need of bio-containment space, or emergency situations.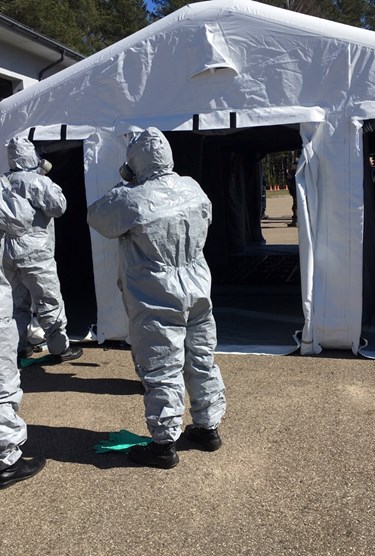 Quarantine tents for pandemic control and patient isolation
Our COLPRO (Collective Protection) & Decontamination solutions are intended for armed forces, medical staff as well as first responders. They can be used for decontamination, pandemic control, patient isolation, hazmat interventions, as CBRN Protection against chemical warfare, and at chemical and industrial plants where there's been an incident.
Combining several high-end technologies in the fields of air-filtering, CBRN detection and positive or negative pressure containment, our quarantine tent solutions are suitable for punctual rescue operations and long-term troop biocontainment alike.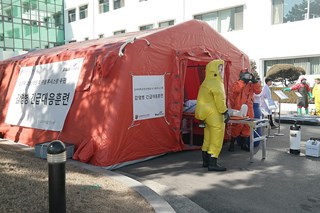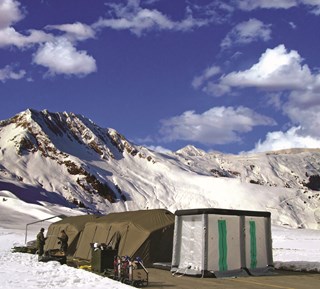 Instant mass decontamination solution for hazmat teams
Our tented mass decontamination systems are ideal for Hazmat emergency situations, such as chemical plant explosions, bioterrorist attacks or chemical spills, where workers or civilians may have been contaminated by potentially harmful chemicals or bacteriological agents.
Our hazmat tents are ready to use in less than 30 minutes, thanks to their self-erecting, inflatable frames. The COLPRO & Decontamination tents can be setup with 2 or 3 lanes for men, women and disabled people, as well as several compartments for triage, undressing, showering and post-treatment control. They are equipped with a custom-built, plug-and-play hydraulic system that feeds the integrated shower system with decontaminant and clear water. You can accommodate up to 30 people per lane, per hour.
Biocontainment and patient isolation to fight a pandemic
As the recent Ebola and Covid-19 crises have shown, infectious diseases still pose a serious threat to human lives everywhere. In order to prevent local outbreaks from becoming global pandemics, patients must be isolated quickly to contain the spread of the disease.
Developed specifically for this purpose, our isolation tents are fitted with a special negative pressure liner and air filtration unit that create a fully sealed enclosure, so that the contaminated air is trapped inside the tent and does not infect the surrounding area. Airlocks at entry and exit points ensure that the pressure inside the tent remains constant, so no bacteria or viruses can escape.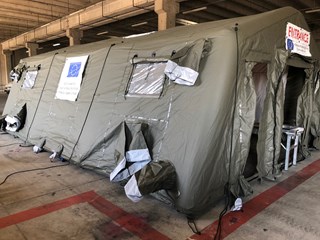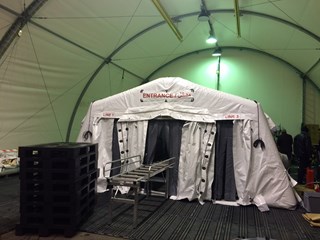 An effective CBRN defence solution
Our CBRN (chemical, biological, radiological and nuclear) defence solutions are designed to provide an effective response to the growing threats of biological weapons, as well as weapons of mass destruction, offering cutting-edge detection technology, decontamination, air-flow management and recycling, and rapid deployment.
All our CBRN facilities are designed to meet your specific needs, and usually incorporate a contamination control area, various airlocks with integrated detection systems, and a toxic-free zone, where staff can operate in a safe and fully sealed environment, under positive pressure and with air filtration units.
An all-in-one COLPRO and decontamination solution
Our COLPRO and decontamination tents are designed to provide an all-in-one solution for external operations and deployments. All connecting elements, such as hydraulic pipes and electrical network cables, are included and optimised to facilitate transport, deployment and quick usage, with plug-and-play designs and easy-to-use interfaces. This also means we try to keep the use of mounting tools and engines to a minimum, for maximal autonomy.
Worldwide training and support
Our readiness support team is used to intervene all around the world, including remote areas, and is able to provide training and after-sales assistance almost anywhere on the globe.
Key advantages:
Fast installation for optimal responsiveness;
Plug-and-play designs for instant relief;
Heavy-duty materials and durability;
Logistically optimised as per your transport and packing needs;
Fully integrated turnkey solution;
Tried and tested for improved safety;
Worldwide support and training.

Worldwide support and training
Our services
Undivided attention to quality and security
An experienced Account Manager
Our Account Managers are specialists who focus on your needs and on providing you with professional guidance and the best customer experience.
A partner that is involved from the onset
Tell us what you need, and we will work with you. Our design and engineering team is here to turn your particular requirements into a functional reality.
The win-win outcomes of training and support
Training end-users on deployment techniques and product usage has a big impact on the longevity of our products. It also helps us to gain valuable feedback on our products.
Your anonymity is our foremost priority
We understand the importance of discreetness and confidentiality in the military and aerospace sectors. So we will always consult with you before releasing any pictures or material.
Some Numbers & Statistics
Losberger De Boer was founded in
0
Number of subsidiaries around the globe
0
Number of professional workers worldwide
0
Average customer satisfaction rate over 2020
9,1
Interested in this Rapid Deployment solution?
Feel free to reach out to us for more information.