Sports facilities for schools and leisure centres
Temporary and permanent sports facilities for short or long-term use. Whether you require a multipurpose sports hall for your school or a new padel court for your community leisure centre - we have a solution for you.
Temporary & permanent sports facilities
We have a huge wealth of experience in creating sports facilities for events including Wimbledon, The Laver Cup, The Olympic Games, The Commonwealth Games, 24 Le Mans and many others.
With this expertise, we have developed a variety of buildings to create the right sports facility for you. Whether you require a temporary sports hall in periods of renovation or would like a permanent gym building to join seamlessly to your existing facilities, we will work together to design you a bespoke solution.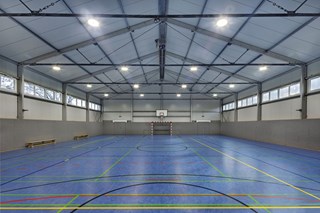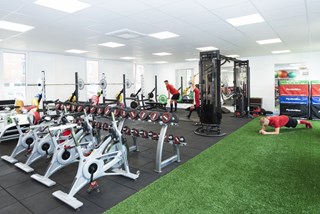 Our Solutions
Sports hall
Gym
Tennis courts
Padel courts
Indoor/outdoor football covers
Badminton courts
Squash courts
Covered play areas/courtyards
Climbing facility
Clubhouse/reception
WC/changing rooms
The Benefits
Fast delivery & build
Our structures can go from concept to creation in a matter of weeks. If you don't have time to wait for traditional construction, we can quickly create the space you need.
Thermal Acoustic System
An exclusive feature of LDB buildings - achieve sound reduction up to 50dB and a U-value of <0.4, ideal for sports facilities.
Hire or purchase options
We make it easy to get the space you need, whether you require it for a short or long period of time. If you're unsure how long you'll need the space, you can hire initially with the option to purchase later.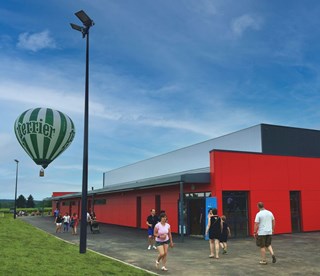 FAQs
Do I need planning permission for a temporary sports building?
Yes, it is likely you will. Planning permission is required if the structure will be up for more than 28 days. It is always best to check with your local planning authority just to be sure.
Can I extend or change my sports building?
Yes - Our structures are modular by design and very easy to extend or reduce if your requirements should change in the future. Due to their reusable nature, you can even relocate your building completely if you wish to move it to another site!
Why would I want a temporary sports hall over building something permanent?
You may require a quick solution in times of unexpected expansion or following a disaster of some kind. A temporary solution can keep your facilities open and fully operational while you rebuild or renovate existing facilities. Alternatively, you may need more space for a short period of time during special events. Temporary buildings are great for testing your requirements and with purchase options, you are in complete control should your needs change in any way.
Can Losberger De Boer provide a full solution with everything I need?
Yes - Together with our trusted partners we can supply a complete turnkey solution with all specialist elements and equipment including:
Sports floor (including markings)

Deflector walls

Roof & wall isolation

Changing rooms and sanitation

Storage space for materials

Office space

Specialist sports lighting

Heating & air conditioning

Fire alarm system
How do I know exactly what I will need for my sports facility?
We will help to guide you! We work with Sports England guidelines which outline everything you need to know from court sizes and designs to the amount of equipment required depending on the size and desired use of your sports facility.
Our services
Undivided attention to quality and security
Delivery reliability
Over the last years, 99.2% of all our material deliveries have been on time. The last 0.8%? Working on it! Apart from delivering in time (and on budget), we always make sure that there is a proper on-site inspection and handover. As we design, engineer, produce and build all our structures ourselves, our installation crews are very well familiar with all our buildings.
Excellent project management
Our project managers are highly experienced professionals, that have successfully delivered a large number of complex projects. Most of them have been providing clients with top-of-class space solutions for over a decade. Before the start of the project, you will be given on single point of contact. This person will know the ins and outs of your project and is available 24/7.
The best possible advice…
…for the best possible results. Our experienced and highly knowledgeable team will not shy away from giving you advice, even when you know exactly what you want. Why? Because oftentimes expert advice makes the difference between a good, and the best possible solution. Because that's what we strive for, together with giving you a great customer experience.
Highest safety standards
All Losberger De Boer crew members are fully qualified and certified to construct our buildings in a safe and compliant manner. Our structures adhere to the highest safety standards, as they contain only high-quality materials and are engineered, designed, and produced by our own product development specialists.
'Quickly and on schedule'

Lutz Höfer ETC Crimmitschau
Testimonial | Sports Facilities
'Quickly and on schedule'
"The installation of our hall was carried out by the competent employees of Losberger De Boer quickly, on schedule and in an appealing quality. Problems could be solved directly or even afterwards unbureaucratically and quickly."
Lutz Höfer
ETC Crimmitschau
Interested in this Commercial space solution?
Get in touch for more information on owning or renting one of our structures.