Maximize uptime with bespoke maintenance workshop solutions
Do you need a maintenance solution robust and flexible enough to withstand the harshest of environments? Are you looking for a workshop that can adapt to your operational requirements? We can provide a wide range of workshop solutions to help keep equipment working.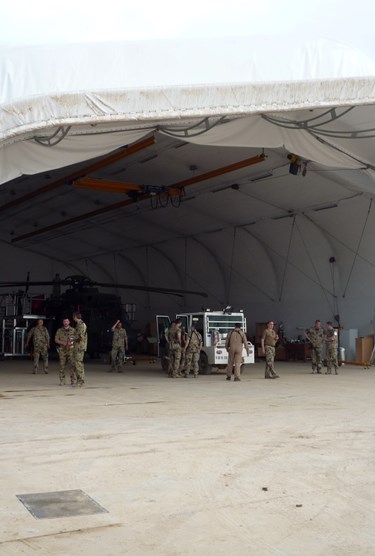 Mobile maintenance facilities for troops on the move
Our revolutionary AMD shelters were developed specifically for mobile land forces. With their trailer-mounted design, they can be transported and erected wherever you go, offering up to 340m² of covered maintenance space and a usable height of up to 7.2 meters. Fitted with an overhead hoist to facilitate extraction and the inspection of vehicle parts, our AMD shelters are an ideal fit for overseas mission and external operations.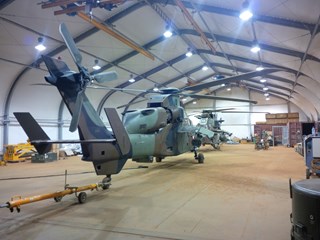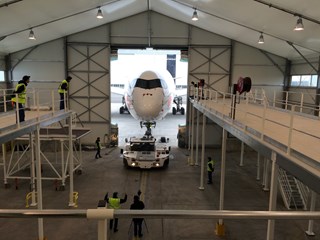 Rapid deployment paint shops for military bases
Developed at the request of the French military, our rapid deployment paint shops can be erected and operational in less than six months and offer all the specific amenities required to carry out aircraft bodywork touch-ups effectively. These amenities include air blowing and extraction fans, VOC (volatile organic compounds) detectors and filters, humidity control and a fast opening apse door for easy insertion of all types of aircraft.
Mobile containerized workshops for lightweight repairs
Our containerized maintenance workshops are ideal for everyday component repairs and overhauls on mobile field camps. Fitted with a tool crib and workstation, they can be expanded threefold from their standard size of 10' utilizing a hydraulic lever to offer a convenient, fully air-conditioned maintenance facility within your camp.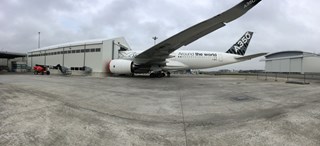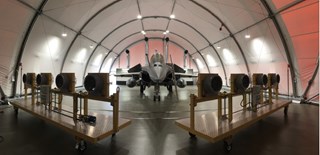 Self-ballasted hangars for airport platforms
Because construction within existing airport facilities usually requires cumbersome building applications, work permits, strict timelines and restrictive gate passes, being able to bypass foundation works to erect a maintenance hangar quickly results in significant cost and operability benefits. With their self-ballasted structure, our maintenance workshops can be built on any levelled concrete platform without causing damage to existing electric or hydraulic underground supply networks.
Do maintenance your way, wherever you are
Whether tented or containerized, mobile or static, semi-temporary or permanent, our maintenance workshops are available in various forms and are designed to support military forces, mining corporations, aviation companies and other operators of sensitive equipment.
Particularly suited for both first-line and second-line maintenance operations, our maintenance workshops offer the ideal environment to carry out work on aircraft engines and turbine blades, airplane nose cone radars, drones, military vehicles including tanks and trucks, mining haul trucks and ancillary equipment on mobile fields.
Our maintenance workshops are designed to provide a sheltered environment that is free from sand, dust or insects for routine inspections, component repairs and overhauls, and bodywork painting. They are built to withstand and protect from demanding operational environments, such as warzones and overseas military theaters, busy airports and airbases, remote excavation sites and mobile expeditionary camps.
Bespoke solutions for every industry
Our long-standing experience, both as a maintenance services provider for the military and as a maintenance workshops manufacturer for a diverse range of sectors, has taught us that every industry operates under specific logistical, scheduling, transportability and environmental constraints.
Unrivalled adaptability and customization
To meet the challenges of your specific industry, you need a partner you can trust. We strive to work collaboratively with our customers to develop the most suitable maintenance solutions for their individual needs. And on many occasions, this has led to the adaptation of our standard structures so they could incorporate special aircraft doors, raisable platforms, heavy-lift cranes and hoists, special flooring, climate control devices and more. Even if you think you are asking the impossible, get in touch – we get a kick out of solving problems and turning challenges into opportunities.
Solutions delivered quickly where they're needed most
We can quickly provide mobile maintenance solutions that can be used in the most extreme environments while being versatile enough to adapt to your changing needs. When you need a protective workshop environment fast, our rapid deployment solutions minimize civil work and manpower requirements, so you can be up and running in record times. We offer fully customizable structures fitted with features for maintenance and paint operations. Wherever you are in the world, our experts are on hand to provide the support and training you need to meet your operational and maintenance targets.
Our services
Undivided attention to quality and security
An experienced Account Manager
Our Account Managers are specialists who focus on your needs and on providing you with professional guidance and the best customer experience.
A partner that is involved from the onset
Tell us what you need, and we will work with you. Our design and engineering team is here to turn your particular requirements into a functional reality.
The win-win outcomes of training and support
Training end-users on deployment techniques and product usage has a big impact on the longevity of our products. It also helps us to gain valuable feedback on our products.
Your anonymity is our foremost priority
We understand the importance of discreetness and confidentiality in the military and aerospace sectors. So we will always consult with you before releasing any pictures or material.
Some Numbers & Statistics
Losberger De Boer was founded in
0
Number of subsidiaries around the globe
0
Number of professional workers worldwide
0
Average customer satisfaction rate over 2020
9,1
Interested in this Rapid Deployment solution?
Feel free to reach out to us for more information.