Increase production space with new or additional facilities
Increase your production space with our scalable and relocatable solutions, at lower costs than buying or renting a permanent building and within a significantly shorter period of time.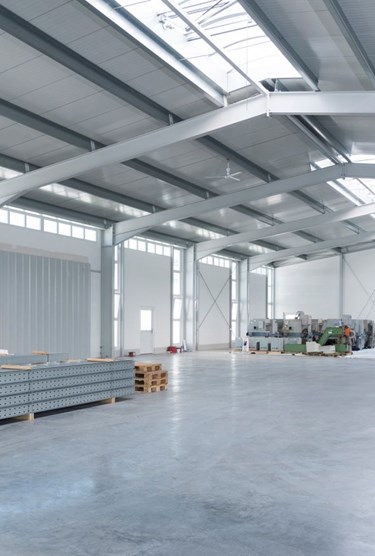 Flexible, fast & cost-efficient
Do you need extra production capacity? We can help you increase or maintain productivity with a solid, high-quality and fast temporary or permanent facility.
Building a new production facility takes time. A lot. It requires a long planning and construction period, as well as a hefty investment. The latter is also true for buying or renting existing property, while this also means you are dependent on the local property market. Apart from having to find a suitable location, you have to deal with the entire process of moving and furnishing. Our quick-to-build, modular buildings offer you a faster and more cost-efficient alternative.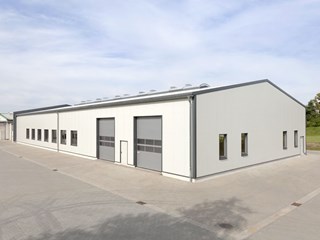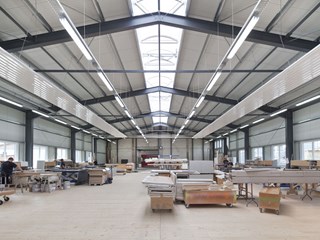 From temporary to permanent
Whether you need additional capacity to deal with a temporary production peak, or are looking for a way to accommodate long-term growth in production and revenue, we can help you achieve your goals. Thanks to the high quality of our components, our structures can be used for weeks up until several decades.
With our temporary production facilities, we offer solutions for long-term capacity demands, that can be built in the short term. Our structures are custom-made to meet your requirements and can be installed within weeks after your first consultation.
We will work with you to help you achieve your goals
Our main focus is to make sure you achieve your goals, and this is always the starting point for your first consultation with us. After getting to know your company, your short-term and long-term goals, and your challenges, we will draft a proposal for the best possible production facility for your situation.
Although we have a 'standardized' building process, we don't have 'standard' buildings. Each space solution is tailor-made to best cater to your needs.
We take everything into account
Our production facilities are without exception highly customized. So our specialist will be asking A LOT of questions. Do you require specific loading doors for transport? How heavy are the machines you intend to use? Do you need some additional space for storage, or do you perhaps want us to add some office space in the facility? How much space do you have available on your terrain, would you like us to add a mezzanine floor for additional office or storage space, will you be using cranes, and so on. We take everything into account, to make sure we deliver the best possible space solution.
Scalable and relocatable
We were the first to introduce structures with a modular design and our buildings still represent the highest industry standard in modular space solutions. What does the fact that they are 'modular' mean to you? It means that parts and elements are interchangeable, which makes them easy (and quick) to assemble and disassemble. It also means that our buildings can be scaled up and down, as well as be relocated. Our production facilities can change along with your needs, offering you maximum flexibility!
Fully functional and fully equipped
We can provide you with a stand-alone facility, or connect it to another building. We can deliver your new production site fully equipped and ready to use. We have a large network of trusted partners, that adhere to the same standards in terms of safety, quality and sustainability as we do. Through our partnerships, we can equip your building with all additional facilities, offering you a one stop shop experience. We can install electricity, lighting, heating, climate control, ventilation, insulation, sanitation, offices and storage space so that you don't have to make arrangements for these facilities.
Our services
Undivided attention to quality and security
Delivery reliability
Over the last years, 99.2% of all our material deliveries have been on time. The last 0.8%? Working on it! Apart from delivering in time (and on budget), we always make sure that there is a proper on-site inspection and handover. As we design, engineer, produce and build all our structures ourselves, our installation crews are very well familiar with all our buildings.
Excellent project management
Our project managers are highly experienced professionals, that have successfully delivered a large number of complex projects. Most of them have been providing clients with top-of-class space solutions for over a decade. Before the start of the project, you will be given on single point of contact. This person will know the ins and outs of your project and is available 24/7.
The best possible advice…
…for the best possible results. Our experienced and highly knowledgeable team will not shy away from giving you advice, even when you know exactly what you want. Why? Because oftentimes expert advice makes the difference between a good, and the best possible solution. Because that's what we strive for, together with giving you a great customer experience.
Highest safety standards
All Losberger De Boer crew members are fully qualified and certified to construct our buildings in a safe and compliant manner. Our structures adhere to the highest safety standards, as they contain only high-quality materials and are engineered, designed, and produced by our own product development specialists.
In short… why choose a Losberger De Boer production facility?
With our temporary and permanent production facilities, we offer solutions for long-term capacity demands. We have a wide selection of modular structures, that can be built within weeks of your first inquiry.
All our structures are modular and of our own design, which ensures you that they:
Can be tailor-made to meet all your space requirements;
Are relocatable;
Can easily be scaled up and down;
Offer great flexibility;
Adhere to the highest standards in terms of quality, safety and sustainability;
Are a cost-efficient alternative to traditional buildings;
Can be installed within weeks;
Can be used for decades.
Some Numbers & Statistics
Losberger De Boer was founded in
0
Number of subsidiaries around the globe
0
Number of professional workers worldwide
0
Average customer satisfaction rate over 2022
8,9
"High quality end product"


Amanda Warner Project Manager
Testimonial | Commercial Space
'Losberger De Boer delivered a quality supermarket space'
"The quick reaction of Losberger De Boer in case of unexpected problems as well as their accommodating attitude convinced us very much."

'Smoothly and without incident'
"The assembly of the supermarket hall was well structured and agreements were strictly adhered to. I have been tremendously impressed by Losberger De Boer. Not only by the quality of their systems, but also by how quickly they understood our project, both from a technical and commercial l prospective. The way in which their creative and technical people have applied themselves to deliver such a swift response was equally impressive."
Peter Alt, Feneberg Food Market
Interested in this Commercial space solution?
Get in touch for more information on owning or renting one of our structures.