Mining Exploration Camp
Do you require mining solutions that offer temporary or semi-permanent installations for mine sites and exploration camps? Our structures combine adherence to strict regulatory requirements with protection against demanding environmental conditions.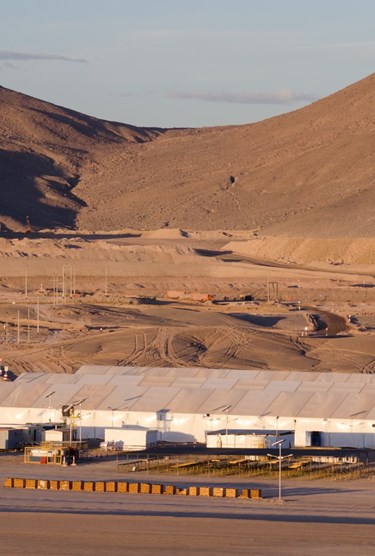 Relocatable structures that adapt to your excavation needs
Due to their modular design, our Mining Exploration Campsncan be easily dismantled and rebuilt at another location. This means they are the ideal solution for exploration camps. They can be used on a temporary or semi-permanent basis and can even be extended or reduced in size. Their adaptability makes it simple to remodel our mining enclosures when required to meet your operational needs.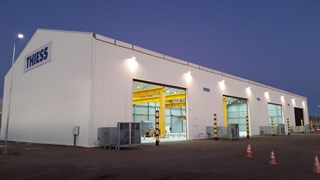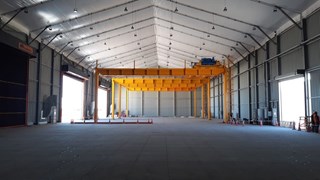 Reduced civil works for increased profitability
Since our mining buildings are anchored to the ground via stakes, they do not require foundations and can be installed quickly with reduced civil works and ground preparation. When you need solutions fast to meet strict operational timelines, our structures offer you the advantage of efficient project scheduling and process profitability.
Simplified building processes for remote locations
Thanks to their simple design and innovative canvas technology, our mine infrastructures can be crane-lifted into position, which minimizes the requirement for specialized building machinery during construction. When your operations are in remote locations, where resources are often limited, simplifying the building process with Losberger De Boer structures can make all the difference in logistical footprint and workforce requirements.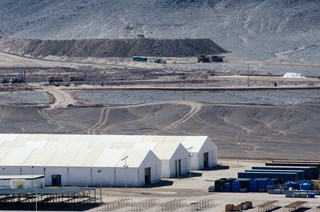 Customized space solutions for mining companies
Our Mining Exploration Camps were developed to give you the space you need to maintain productivity levels in the toughest of environments. Whether you are looking for mine production enclosures, living quarters including offices, accommodation or a refectory, haul truck maintenance workshops or storage halls, our rapidly deployable solutions can be installed on your site within record times.
We offer the ultimate flexibility, made possible by the wide range of options available when you choose a Losberger De Boer solution. Consisting of double-pitched, canvas-roof buildings, our mining infrastructures are versatile and can be built using different materials, tailored to your specific requirements. Our frames are constructed using aluminum, steel or a combination of both, making our structures strong enough to withstand the most extreme of conditions. Roof covers can be made from a soft, single or double PVC-coated membrane or single sheet steel cladding. We calculate all structural elements based upon the local wind and weather conditions or required snow loads.
Don't let challenges slow you down
We have helped mining companies globally to meet their production milestones with our customized mining solutions. Lightweight and easy to install, our mining infrastructures help you meet the challenges of remote locations and harsh conditions, so the work can continue.
Comfortable infrastructure for challenging working conditions
Because working in the mining industry often requires demanding labor in extreme weather conditions, we strive to provide living quarters and ancillary facilities, including accommodation, refectories and offices, that are as comfortable and secure as possible. We achieve this by integrating utilities such as air-conditioning, heating and ventilation, as well as thermal and sonic insulations, into our designs whenever possible.
Mining Exploration Camps delivered quickly and turnkey
Our mining infrastructures provide an all-in-one solution for expeditionary camps and deployments. This means connecting all of the elements, including HVAC ducting, hydraulic pipes and electrical network cables, is included and optimized to facilitate transport, deployment and usage through plug-and-play designs and easy-to-use interfaces. To give you maximum autonomy, we also try to keep the use of mounting tools and engines to a minimum.
High safety standards: our top priority
Are you looking for a partner who provides unrivalled quality and speed without sacrificing safety? We understand, and are fully aware of, the strict safety regulations that apply to the mining industry. You can count on our design team to keep a close eye on the local requirements and safety standards your infrastructures need to comply with, especially in terms of climatic loads, seismic resistance, fire-detection and signage, air recycling, exhaust fume extraction, floor load capacity and drilling restrictions.
Unrivalled flexibility and benefits
Our mining structures offer unbeatable versatility and can be dismantled and relocated to other areas or sites as required. Due to lower requirements for machinery and logistical footprints, our building can be moved with ease to keep the work going. Choosing a Losberger De Boer mining solution enables you to offer increased comfort while ensuring our bespoke, integrated structures adhere to local regulations and can be delivered with in-built safety devices.
Our services
Undivided attention to quality and security
An experienced Account Manager
Our Account Managers are specialists who focus on your needs and on providing you with professional guidance and the best customer experience.
A partner that is involved from the onset
Tell us what you need, and we will work with you. Our design and engineering team is here to turn your particular requirements into a functional reality.
The win-win outcomes of training and support
Training end-users on deployment techniques and product usage has a big impact on the longevity of our products. It also helps us to gain valuable feedback on our products.
Your anonymity is our foremost priority
We understand the importance of discreetness and confidentiality in the military and aerospace sectors. So we will always consult with you before releasing any pictures or material.
Some Numbers & Statistics
Losberger De Boer was founded in
0
Number of subsidiaries around the globe
0
Number of professional workers worldwide
0
Average customer satisfaction rate over 2020
9,1
Interested in this Rapid Deployment solution?
Feel free to reach out to us for more information.