Expeditionary Base Camp
Our expeditionary base camps are designed to offer all the required amenities for troops during trainings, overseas operations and deployments, in one rapidly deployable solution.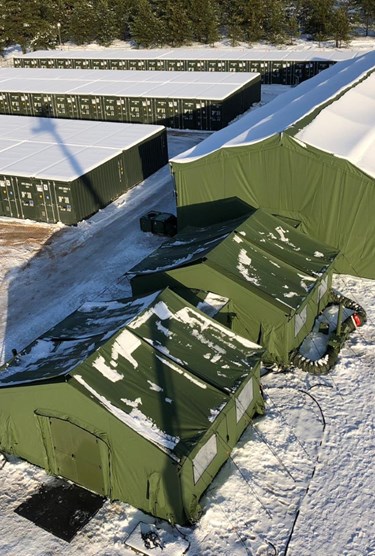 Living quarters and life-support solutions
Our Expeditionary Base Camps usually contain a mix of tented living quarters and containerised life-support solutions, to provide a mobile group a host of much needed facilities in remote areas, where access to water and electricity are scarce.
Our base camps are developed with the specific capacity and logistical needs of troops in mind. They are fully customisable and are developed to provide optimal comfort and autonomy in even the harshest environments.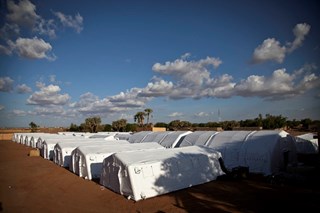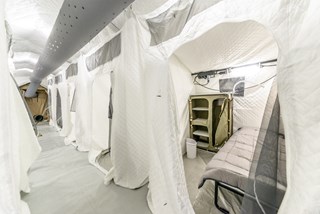 A typical Expeditionary Base Camp setup
We have a lot of experience in developing and delivering expeditionairy base camps. A typical setup that we can provide often consists of the following facilities: accommodations or dormitories, washrooms, laundry rooms and sanitation, as well as facilities for food preparation and storage, water treatment and storage and distribution of fuel.
In addition to this, we provide room for power generation, watch towers, hangars for aircraft and vehicle storage, waste incinerators, as well as office space and medical facilities (pharmacy / clinic / hospital).
Highly adaptable and many configuration options
Our expeditionary base camps are designed to provide maximum flexibility. They are modular and can easily be adapted in size and configuration, without the need for a lot of additional components and accessories.
By using standardised, off-the-shelf components and tent elements that are interchangeable and compatible with each other, we can provide you with 'Lego-like' camp solutions, consisting of multifunctional building blocks that can be removed or added depending on your operational needs.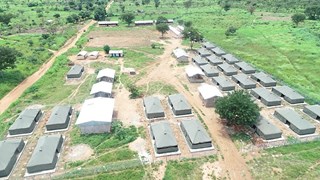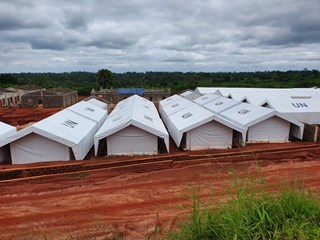 Your comfort and success are our main priorities
Because being deployed overseas will always be an emotional and psychological challenge for military personnel, we place great importance on providing both comfort and safety in a camp. This is why we strive to make our expeditionary base camps as homely as possible, with sufficient room and adequate amenities for each person.
With the comfort and success of military teams firmly in mind, our design department calculates the surface, water and energy requirements of your camp based on troop capacity, by incorporating work shifts and peak demand times, as well as noise reduction and air-conditioning needs.
Reduced logistical footprint
Thanks to our long-standing experience within the military sector, we are fully aware of the importance logistics plays in military deployments and overseas missions. This is why we always have packing, storage and transportability in mind when designing a camp.
Based on container loading diagrams and optimised package dimensions, we aim to improve your logistical footprint by reducing the number of required containers, whether it be specific military containers (bicons, tricons, etc.) or standard maritime containers (CSC-certified 20' or 40' containers).
The packing of our expeditionary base camps relies on a balanced compromise between reduced volume, weight and size, and streamlined deployability, where essential camp components are readily available to facilitate a quick setup.
Tried and tested durability
By providing regular training and on-site support, we have gained valuable insight into the everyday use and handling of our camps, which, in turn, has helped us to further improve their quality, reduce wear-and-tear, and prolonging our camp's life cycle.
This means all the components of our expeditionary base camps are made with high-grade materials that are designed to withstand harsh handing and conditions, with multiple un-packing and repacking operations in often extreme climates.
Turnkey Design
Our expeditionary base camps are conceived to provide an all-in-one solution for external operations and deployments. This means all connecting elements, such as hydraulic pipes and electrical network cables, are included and optimised to facilitate transport, deployment and usage, with plug-and-play designs and easy-to-use interfaces. This also means we try to keep the use of mounting tools and engines to a minimum, for maximal autonomy.
Worldwide Training and Support
Our readiness support team is used to intervene all around the world, including remote areas, and is thus able to provide training and after-sales assistance in most parts of the globe.
The key advantages of an Expeditionary Base Camp by Losberger De Boer:
Modular design for adaptive configuration and capacity requirements
Heavy-duty materials and durability
Logistically optimised as per your transport and packing needs
Scalable level of comfort
Fully integrated turnkey solution
Worldwide support and training
Our services
Undivided attention to quality and security
An experienced Account Manager
Our Account Managers are specialists who focus on your needs and on providing you with professional guidance and the best customer experience.
A partner that is involved from the onset
Tell us what you need, and we will work with you. Our design and engineering team is here to turn your particular requirements into a functional reality.
The win-win outcomes of training and support
Training end-users on deployment techniques and product usage has a big impact on the longevity of our products. It also helps us to gain valuable feedback on our products.
Your anonymity is our foremost priority
We understand the importance of discreetness and confidentiality in the military and aerospace sectors. So we will always consult with you before releasing any pictures or material.
Some Numbers & Statistics
Losberger De Boer was founded in
0
Number of subsidiaries around the globe
0
Number of professional workers worldwide
0
Average customer satisfaction rate over 2020
9,1
Interested in this Rapid Deployment solution?
Feel free to reach out to us for more information.